Bisbee
Once a copper camp queen, Bisbee's day-to-day life was fraught with pollution, deforestation and the possibility of Indian raids. The town has since re-invented itself as an artist's haven.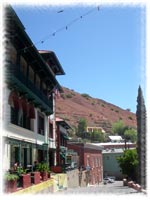 Bisbee, Arizona - Photo by Adam Longfellow
Fairbank
It took this town a while to get a name: it wasn't until the post office opened in 1883 that the town was dubbed Fairbank. Silver was this location's mainstay so when the mine quit producing in the 1890s, the town began to decline. In 1901, a wealthy Californian purchased the town and evicted its citizenry " unless they wanted to pay him rent for their houses. Angered, many of the townspeople torched their homes and moved elsewhere.


Photo by ArizonaGlo
Goldfield
Ride in a narrow-gauge train before panning for gold " just like the miners did back in the 1890s. In its heyday, the town had a boarding house, brewery, meat market and multiple saloons. Then the vein faulted and the town began its slow demise.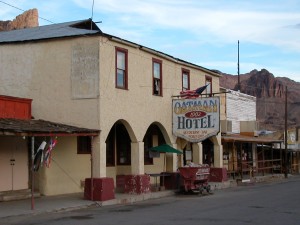 Oatman, Arizona - Photo by Adam Longfellow
Oatman
Named after a woman who was captured and later released by Mohave Indians, Oatman has handled a sporadic population and mining income over the past century. In1913, the population was close to 10,000 thanks to a big strike, but by the early 21st century, the town had dwindled to a few hundred people.


Tombstone, Arizona - Photo by Adam Longfellow
Tombstone
You knew this one was on the list: Tombstone, made into a movie based on its violent reputation, was once home to 15,000 residents. Yes, you can visit the OK Corral, site of Earps's stand, as well as Silver Nugget Saloon, Big Nose Kate's Saloon, Birdcage Theater and the Tombstone Courthouse.
By Anna Philpot
Pure information, faster, no ads, privacy, full screen maps, more filters, layers for weather, traffic, biking, transit, over half a million search combinations.
Join now
Feature Categories
More Posts