A little known fact is that most hotels are considered haunted . Think about it. In most hotels, someone died, and it opens up the possibility of the disembodied spirit to linger around the room, or worse, scare unsuspecting hotel employees. I was one of those employees. I was working the late shift at a hotel, it was all quiet and vacant. It was 4am and I was delivering bills under the door on the 5th floor, when, out of the corner of my eye, I see this child peering at me. I looked in the direction of the child, and nothing! You've never seen someone run as fast as I did. And in sensible pumps, no less!
I didn't make a big deal out of it, but I did inquire quietly to other co-workers. One by one, they commiserated with their own unique tales of late night hauntings at the hotel. Having watched my fair share of Scooby Doo, I'm much too cynical to believe in ghosts, but I definitely switched shifts as quickly as possible.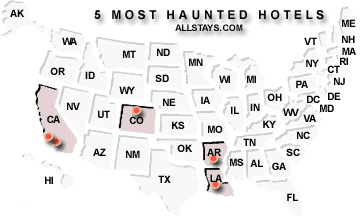 If you're into ghost sightings, check out these spooky hotels :
5. This Four Star hotel and resort is considered one of the top resorts in the world. Not a bad place to hang out when you're chasing ghosts. It became known as a haunted hotel due to the curious circumstances surrounding Kate Morgan , who apparently committed suicide on the steps on the Hotel Del Coronado in 1892. Many experience unexplained phenomena, like whispering wind and apparitions.
4. Psychics agree that this is one of the spookiest locations in the US. It's haunted by so many ghosts that you can't even keep up with them all. This permanently docked ship turned art deco hotel is home to around 50 ghosts, all of which died in unfortunate circumstances, like drowning– not in the ocean, but in the ship's swimming pool. Yikes!



3. We all know Stephen King is undead, but where does he turn when he's in need of inspiration? Look no further than the Stanley Hotel in Colorado. It's the muse behind The Shining. And the Stanley is definitely cashing in on the fame, with guided ghost tours. Even if you don't take the tour, perhaps you can still hear the ghostly laughter of children in empty hallways.


Photo by Rob Lee (Flickr)
2. If the thought of hands reaching out to you from mirrors thrills you, run, not walk to the Crescent Hotel and Spa in Arkansas. This hotel is spooky with a capital S. So far, the other hotels on this list have featured friendly ghosts, but these ghosts are not your friends.



1. Speaking of ghosts in mirrors, the Myrtles Plantation also has their own special gateway to the undead. Some report seeing a girl skipping up and down the steps through a haunted mirror, but when they turn around, there's no one there. It's also been reported that 10 people were murdered at this plantation, which doesn't improve your odds if you choose to stay there.


Do you have some ghostly tales you'd like to share?
Pure information, faster, no ads, privacy, full screen maps, more filters, layers for weather, traffic, biking, transit, over half a million search combinations.
Join now
Feature Categories
More Posts