The California coast has great beaches as the state stretches from Oregon on the north to Mexico to the south. The types of coastline and beaches do vary greatly. You may be in a swimsuit south of San Diego and while someone else needs layers of shirts and jackets in the north. First, I'd like to cover the north section of California coast.
Clam Beach County Park is 7 1/2 miles north of Arcata (near McKinleyville) off HWY 101 (exit for the Clam Beach Park). This is one of the few parks that you can still camp right on the beach. They have 12 tent sites and 15 RV spaces. Small beach fires (less than 30″ across) are permitted and you can collect up to an armload of driftwood. No reservations taken and there are vault toilets only.

Can you live like Jim Rockford? No. You can stay up to 3 days.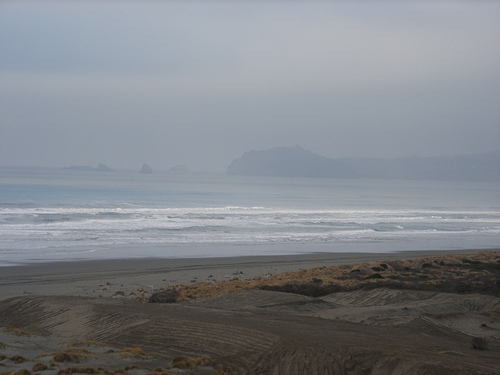 Clam Beach County Park - Photo by humboldthead

Gold Bluffs Beach is inside Prairie Creek Redwoods State Park. Take Davison Road, 3 miles north of Orick off Highway 101. This is about 50 miles from Eureka, California. The road is limited to vehicle less than 8 feet wide and 24 feet long. No trailers allowed. If you are in small RV or tent camping, this is a great place. It is primitive beach camping however. There are no reservations for this campground. The State Park website I send you to here only takes reservations for the main campground within the park. That one is nice too for lots of animals but it is not on the beach.
Can you live like Jim Rockford? No. You just pick a place in the sand.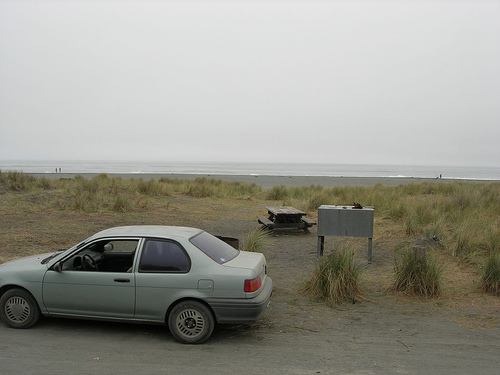 Gold Bluff Beach - Photo by Flickr's joedecruyenaere
Westport-Union Landing State Beach is located 19 miles north of Fort Bragg. The park is spread over three miles of rugged coastline. There are 47 campsites on the bluff where you can see the sunsets with tree covered mountains behind you. No reservations taken as it is first come, first served.
Can you live like Jim Rockford? No. This is primitive camping.

More camping options on the north coast.
Sonoma Coast State Park is located between Jenner and Bodega Bay on Highway 1. There are four different campgrounds in this park. From primitive Environmental Camps to Bodega Dunes Campground with hot showers.
Salt Point State Park is off Highway 1 about 90 miles north of San Francisco.
I will cover the southern coast and central coast in other pieces.


Pure information, faster, no ads, privacy, full screen maps, more filters, layers for weather, traffic, biking, transit, over half a million search combinations.
Join now
Feature Categories
More Posts