If your dreams of Bridesheadian splendor, excess, and inter-war decadence have been left unfilled even after hours of exploring the hallowed halls of Oxford's thirty-nine colleges, then spend your evening in Oxford drinking cocktails and sipping champagne at these five establishments – you'll be sure to be stuttering, holding a teddy bear, and dining on quails' eggs in no time.
1) The Grand Cafe
Love it or hate it, this opulent expression of Art Deco finery on the High Street is Oxford's most visible outlet for extravagance. Its cocktails are excellent – if pricey (a 7-11 happy hour brings down the price to 3.75 GBP for most cocktails), and although the popularity of the place does mean that there's a bit of a wait for drinks and seats later on in the week or evening, it's well worth a stop on the cocktail-bar-crawl.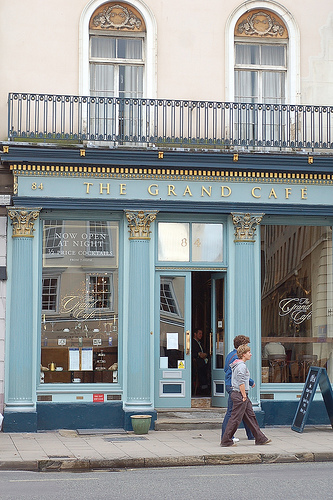 Photo by flickr's manray3

2) Raoul's
The widest selection of cocktails in Oxford, averaging 5-6 pounds each, Raoul's cocktail menu combines Oxford classics with inventive takes on every drink you can imagine. The posh, black, minimalist interior – spread out over three evenly crowded floors – and unobtrusive chillout beats all combine to make this Oxford's poshest cocktail venue. Located on Walton Street, in the upscale neighborhood of Jericho.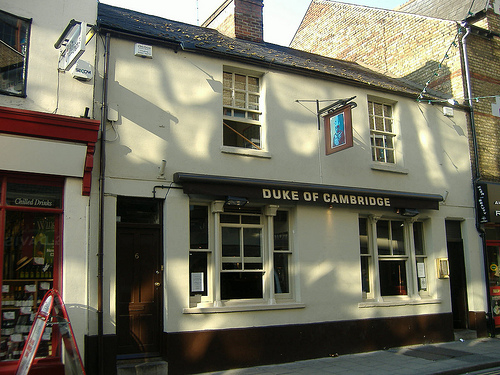 Photo by flickr's nibblepig
3) The Duke of Cambridge
Sleek and elegant without being as cold or self-consciously modern as Raoul's, this Little Clarendon Street staple has a happy hour designed to show off the newest and best in Oxford fashion on Oxford's most beautiful and willing models. The drinks, however, are the real star here – inventive without being too out there. The limoncello take on an elderflower collins is highly recommended.
4) Kazbar OR Cafe Coco
Located on the generally more bohemian Cowley Road, these two establishments across the street from each other would be better suited for Jericho. Both owned by the owner of the Grand Cafe, it's worth stopping at the delightfully kitschy Cafe Coco (note the mannequin in the bathtub and old-school travel posters) and the exotic Kazbar (a generally Moorish theme, with Spanish sangria and tapas and a few remnants of Aladdin's lamp scattered here and there.)
5) Angel's
Another Little Clarendon favorite, the bright red decor and dessert-sweet cocktails make this an ideal spot for a romantic engagement. Two floors spread out this generally crowded venue; the first floor is more relaxed, while the basement has a "clubbier" vibe. With a later happy hour than the Duke of Cambridge and a slightly less conservative feel, Angel's is the place to let loose and splurge on a deliciously frothy "Tiramisu" cocktail – or several!
by Tara Isabella Burton
Pure information, faster, no ads, privacy, full screen maps, more filters, layers for weather, traffic, biking, transit, over half a million search combinations.
Join now
Feature Categories
More Posts