Thanks to one of my favorite films, The Godfather, I used to think that "sleeping with the fishes" was not really a good thing. It has taken on a new meaning since that legendary film of 1972. There are a couple of possibilities for you to slumber under the sea right now, and we'll get a have more options over the next few years. But you don't have to hold your breath…
Jules Undersea Lodge , Key Largo, Florida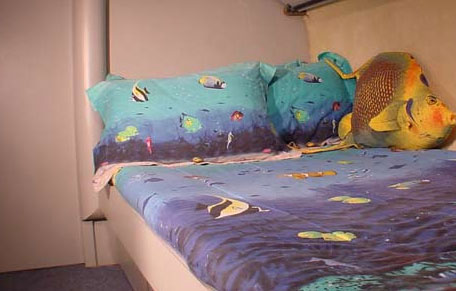 The oldest running underwater hotel deserves to be at the top of the list. Although built in the 1970's as a research lab near Puerto Rico, it moved to Key Largo and opened as a lodge in 1986.
You either have to be a certified diver or go through a three hour course to go down to your room for the night. They also offer diving excursions and training as an additional amenity option. Your room is stocked with air, showers, air conditioning, stereo, tv and great underwater views. Dinner and breakfast are provided at your door…or hatch.
Utter Inn , Vasteras, Sweden
Is it art or an inn? Well you can sleep in it and it looks great. You don't have to dive for this one. You actually just climb down a ladder to your room below the water line. On top, it's a offshore buoy. Underneath the buoy is your simple and sparse room. It is only one room so book it far in advance. Drive ups are not available. Price is around $250 a night.
Hydropolis , Dubai
If there is a challenge out there in building, Dubai will be doing it. This is a ridiculously expensive luxury resort built on the ocean floor, 66 feet below the surface in the Persian Gulf. When fully completed, it will have a land station with a see-through train tunnel going into the water and below to the hotel. With 220 suites, it will be the first of it's kind, each suite with clear glass around the sleeping and bathing areas. This company plans to build them all over the world as well. According to their website look for them in Monaco and New York as well as places without water like Munich and London. I look forward to seeing an underwater resort without the water…wait, we have those. They are called hotels.
Poseidon Undersea Resort , Fiji
The Poseidon is a 5-star resort opening off of Fiji. You will enjoy this one much more than the passengers of the 1970s movie. And you won't have to climb any upside Christmas trees to get back out. You'll have your own submarine instead! The resort also built it's own island, the Poseidon Mystery Island, for guests to explore. Price is set to start at $1500 a night.
Huvafen Fushi , Maldives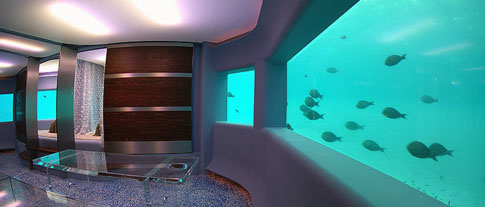 This one is an honorable mention in that you have to arrive by boat or seaplane and you sleep above the water but the hotel spa is underwater and truly unique. So it's not sleeping underwater but it's the first underwater spa and it looks amazing. I'm ready to go.
So if you are looking for something different and expensive, check out some of these underwater hotels. If any of these larger resorts actually open and are successful, I'm sure we'll be seeing many more of them around the world.
Pure information, faster, no ads, privacy, full screen maps, more filters, layers for weather, traffic, biking, transit, over half a million search combinations.
Join now
Feature Categories
More Posts