When you start thinking about it, there are many options for places to park overnight in your RV. And let's face it, it's fun. Even if you can afford a RV Park every night, do you really want to always be packed in-between other RVs with the noise and spotlights shining in your window?
Service stations like Camping World and other dealers. You can blend in like you're waiting for a early morning appointment.
Some gambling casinos. They like customers who spend money. Check to see if you need to join a club or get a pass. Many have real RV sites and campgrounds now and may charge.
When out west, you have lots of road going nowhere. Find a spot but stay out of the way in case a farmer or worker does come by. You also have BLM and other Federal lands all over the place. Keep binoculars and a wildlife or bird book with you so have an nice peaceful excuse.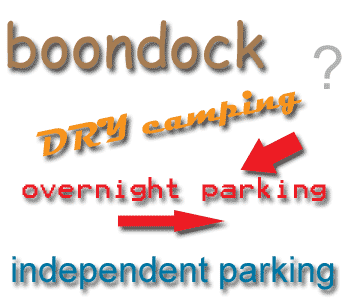 Blue Highways is a term used for the old roads and highways. There is also a great classic book by the same name that you may want to check out some day. They go through small towns and places that time forgot. More options exist in these places than in cities or near busy interstates.
Talk to locals . They may know of a local park or even offer to have you park out back and watch over the place for the night.
Play in the park . More than once, I have taken a break for a lunch, a nap or a playground stop and found out that you could park overnight there. I've even found free town parks with just two or three electric hookups. You'd never know about them without stopping or talking to a local. Some of these towns are one step away from being a ghost town and keeping you there to buy a meal or such makes a difference. If I was a small town, that's what I would do. Bring in the RV crowd.
Special Events . Watch for fairs, shows, flea markets, festivals and other club gatherings. You may be able to park for free at low cost. Even buying a spot at a flea market and then "deciding not to sell today" may be cheaper than a local campground .
Adam | Feb 20, 2009 | Category: Boondocking
Pure information, faster, no ads, privacy, full screen maps, more filters, layers for weather, traffic, biking, transit, over half a million search combinations.
Join now
Feature Categories
More Posts