We broke down the average nightly rates at campground across U.S. and Canada and this is what the current chart looks like.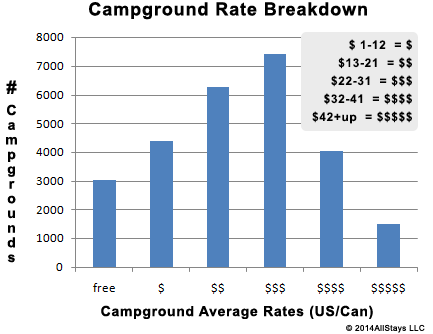 Rates depend greatly on how you like to camp. If you like fewer services and more remote places (or even boondocking), you will get by at very low cost. If you like private, higher end RV parks with amenities or in certain popular areas, then you will be paying much more to set up for a night.

I noticed that if you stick with CA or FL, you will more likely be paying more.
3010 are free
4400 at $ (majority of forest camps, city/county parks and BLM are $ or free)
6270 at $$ (1400 out of 2200 state parks are free, $ or $$. States are either really high like CA or lower than private.)
7400 at $$$ (out of these 13,000 $$$ and higher priced parks, 10778 are private RV Parks.)
4020 at $$$$ (996 in west coast states CA, WA, OR and 451 in FL)
1500 at $$$$$ (600 in CA alone, 175 in FL)
Pure information, faster, no ads, privacy, full screen maps, more filters, layers for weather, traffic, biking, transit, over half a million search combinations.
Join now
Feature Categories
More Posts