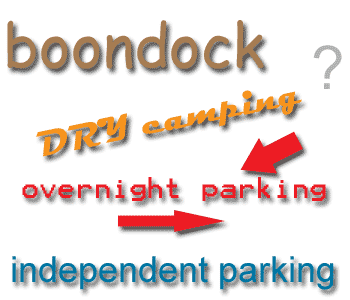 What are all these terms. Boondocking, dry camping and independent parking are pretty much the same thing when you see them bantered around. Dry camping means you obviously have no water or normal amenities. Independent parking means that you are prepared to dry camp or boondock but you'll use any amenities you'll find.
The most important thing, which always sparks a heated discussion in all the online forums and boards, is to blend and use common sense. No one should be able to tell you are sleeping or "camping" in your rv where it is parked. No chairs, awnings, grills, jacks or slideouts deployed.
When you are moving fast to a particular destination, it makes sense to use rest areas and parking lots for naps or just sleeping. Many of these areas restrict parking. If you are discreet and don't look like you are staying long, you probably won't be bothered. And if you really unsure about if you can park somewhere for a little while, don't even put up sun shades, antennas or anything that may hint that you didn't just run in to shop at the Gap or IKEA or wherever. Most officials have better things to do than go poking around a vehicle that looks like it's just parked. It's when you look like you are staying for a bit that draws some attention.
If you look like any of the following, be prepared to be approached. Homeless, drug dealer, drug user, prostitute, crook or a person who puts leaflets on car windshields.
The bigger the place and the more crowded it is, the better. This isn't good if you need silence for your nap, but it helps to blend in. Bigger truck stops, bigger malls, bigger rest areas.
You can use of our guides to find many of the most common places to try parking, from rest areas to Camping Worlds to Wal-mart locations . And if you are creative, you'll come up with many more possibilities out there.
Adam | Feb 8, 2009 | Category: Boondocking, Camping
Pure information, faster, no ads, privacy, full screen maps, more filters, layers for weather, traffic, biking, transit, over half a million search combinations.
Join now
Feature Categories
More Posts