I love watching movies! And the only thing I love more than watching them is pretending I'm the main character. The making of a good movie is its ability to rapture you away into a totally different destination and lifestyle. Who's paying for reality? Movies are all about fantasy. If I wanted reality, I could just save the $8 bucks I'd spend at the movies.
I feel the same way about vacations. When you really commit your time to going on a vacation, why not travel somewhere totally out of your ordinary existence? If you're like me, you probably want to vacation in the movies. Well, here is a list of sure-fired ideas based on some of the greatest movies of all time: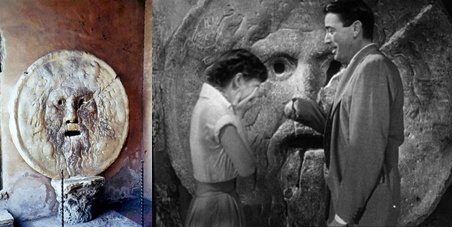 Photo Courtesy of Wikimedia Commons
1. Oh, how darling Audrey Hepburn was in one of her most memorable roles. Set in Italy, "Roman Holiday" is a feast for the eyes. Of course, Rome is a must-see vacation spot for so many reasons. If you're going there, why not travel it like Anya, Princess Ann's adventure-loving alter ego. You can take a stroll to Via Margutta 51, the location of Joe Bradley's charming apartment, or you can even stick your hand in the Bocca della Verità if you so dare.
Photo Courtesy of Ryokan Collection
2. "Memoirs of a Geisha" contained some of the most beautiful cinematography ever depicted on film. You may not realize that you can stay some place just as authentic. In Japan, bed-and-breakfast-esque Ryokans offer a realistic setting for you to live out your fantasy. "Memoirs of a Geisha," a semi-true story, took place in Kyoto, home of the geisha. The best place to stay is Sumiya . Make sure to hit spots like Fushimi Inari Taisha (the fountain) and Kiyomizu Temple (the red passage way Sayuri runs through).
Photo by Jim Tyler & Pablo Sanchez
3. Africa is truly breathtaking, no wonder it inspired Isak Dinesen to write such beautiful prose. Discover the world behind the Academy Award winning movie, "Out of Africa." Go to Dinesen's farm in Kenya. It's now a museum near the Ngong Hills. Of course, no trip to Africa would be complete without a wild-life safari. Make sure to rope your significant other into washing your hair and reciting poetry. Hey, you only live once, right?
Photo by Tara Hunt, Greg Hewgill & DC White
4. I can't tell you how much I want to go to New Zealand! Ever since watching the first "Lord of the Rings," and realizing it was actually shot in a real place, and not against a green screen, I just new I had to go there. New Zealand is one of those places that's popular but not over-run by tourists, possibly because it's at the end of the world. If you're crazy for hobbits, you must visit Hobbiton, a place where the actual Shire screens were filmed. The hobbits homes are still standing. Majorly cool!
Photo by Rob and Lisa Meehan
5. Aahhhhh! Of all the movies I've ever seen in my life, "The Sound of Music" remains my favorite. And it's not just my favorite. It's a family favorite since the 1960s. Who doesn't want to run on the green hilltops of the Alps? Or skip through the idyllic town of Salzberg proudly singing, "Doe, a deer, a female deer?" Afraid of looking silly? I'm sure it's nothing the townspeople haven't seen a million times before. You can even see the famous gazebo, setting of Rolf and Liesl's romantic duet. Even if you're not into "The Sound of Music," the scenery of Salzberg is gorgeous, and will having you singing your own song.
What are some of your favorite vacation spots?