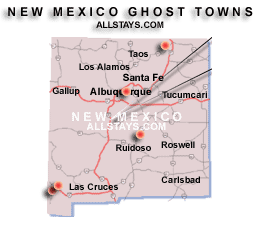 Ancho
A short drive from Carrizozo, Ancho was settled by cattle ranchers looking for a fertile grazing land.


Hagan, New Mexico - Photo by Killbox
Madrid
Drive the historic Turquoise Trail National Scenic Byway to stop in this quaint town. About 400 residents live here year-round, and the art scene is booming.


Madrid, New Mexico - Photo by jessicareeder
Dawson
Home to some of the world's worst mining disasters, this was once a bustling metropolis of nearly 9,000. The town, originally owned by Phelps Dodge, boasted schools, an opera and even a bowling alley.


Hagan, New Mexico - Photo by Killbox
Hagan
Coal was the moneymaker behind this Sandoval County town. Built around the turn of the century, it was deserted by the end of WWII.
Shakespeare
Located off I-10 near the Arizona border, this was once Billy the Kid's stomping ground. You can walk along the Butterfield Trail and see Billy's Old West.


Photo by George Self
Steins
Within miles of the Arizona border, this privately owned ghost town offers guided tours through the ten refurbished buildings.
The best ghost town is often the one you are visiting next, what is your favorite New Mexico ghost town?
By Anna Philpot



Pure information, faster, no ads, privacy, full screen maps, more filters, layers for weather, traffic, biking, transit, over half a million search combinations.
Join now
Feature Categories
More Posts