Have you ever wanted to live in a tree? Have you ever wanted to be a bird? Well I can only help with the first one. Whether you are in the United States or visiting Kenya, you can indeed stay in the trees.
Ngong House , Nairobi, Kenya

A treehouse of luxury, this is one of the best. Whether this is your getaway destination or you are are awaiting your safari, four poster beds, exquisite linens, gourmet food and evening campfires make you want to stay longer.
Cedar Creek Treehouse , Ashford, Washington
Only ten miles from Mount Ranier National Park, this private bed and breakfast cottage is up in a 200 year old Western Red Cedar. The tree grows right through the kitchen and up past a skylight that brings in the sun and the view of the birds.
The Bamboo Treehouse , Rincon, Puerto Rico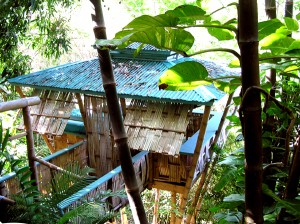 This vacation rental sits in the lush tropical hills of Rincon. It is just minutes from beaches, sunsets, surfing, scuba diving and even whale watching. The house sleeps eight and there are also private hooches for couples. The property is 24 acres of bamboo and hardwood forest with trails.
Out N' About Treehouse Resort , Cave Junction, Oregon
Stay here in Cave Junction and you'll get a treehouse, a full breakfast and everything you need to live better than the birds. Options vary from a suite to a perch or even a yurt in the trees.
River of Life Farm Tree House , North Fork River, Missouri
Set on 350 acres, this private tree house is perfect for a fly fishing retreat. It includes access to the miracle mile of rainbow trout fishing in the Missouri Ozarks. The Mark Twain National Forest is right next door for more hiking. Or perhaps you are into hiking and solitude. You can watch and hear the river from the deck as you relax and forget about the world's troubles. The cabin can sleep up to 6 but is perfect for just a couple.
The Tree House , Point Reyes, California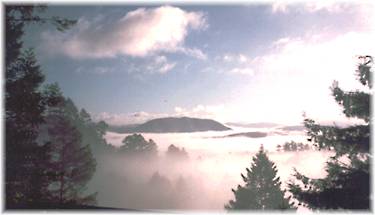 This getaway in West Marin is on the tip of the Inverness Ridge with a view of the Point Reyes Station. Relax with several room options above the fog.
Nahiku Treehouse , Maui, Hawaii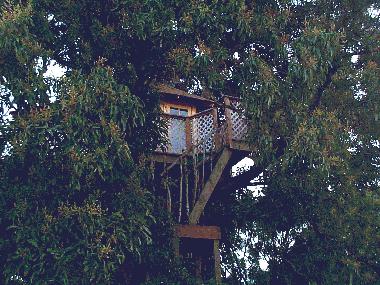 Settled in the trees on a four acre piece of land on the East coast of Maui, you'll enjoy panoramic views of the Pacific Ocean and the Haleakala volcano.
Green Magic Nature Resort , Vythiri, India
500 acres of tropical rainforest surround you here at the eco lodge and ethnic houses. Access to the tree house 86 up above the ground is by an indigenous lift made possible by a counter weight of water. Double beds and a bathroom with flushing toilet and shower await you. Food comes from an organic farm.
Treehouse Village Resort, Kavieng, Papua New Guinea
This eco resort 20km from Kavieng sits with beach-front bungalows and a main TreeHouse suite. Meals are served over looking the Pacific Ocean in your suite or on the beach. You can do nothing at all or enjoy a variety of activities such as snorkeling, diving, fishing, hiking or canoeing.
Secrets on the Lake, Montville, Australia
Ten individual treehouses just north of Brisbane in Queensland Australia offer privacy and a world class stay. Hand carved walkways lead you to your retreat with cedar furniture, luxurious bathrooms and kitchen facilities.
So go climb a tree, relax and let us all know what you think.